For the Adbeat Pro Accounts:  To manage your subscription, first go to your profile page.  Using the navigation, go to Billing & Plans and then to Change Plan:
Here you'll be able to see all available plans.  Note that there are additional options to be found in the Special Plans as well as discounted plans in the Yearly page.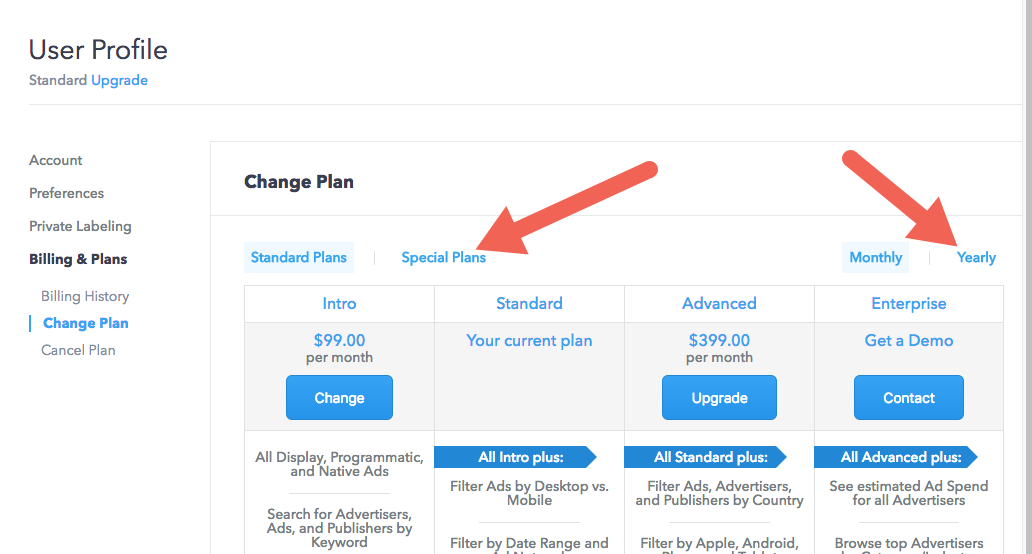 Simply select the plan that works best for your needs today!
How do I get access to more features?
We have a variety of plans to fit your needs.  Check out the differences between all of the plans you can choose between.  If you'd like to upgrade, there are several easy ways:
Upgrade from the app
In the header of the app UI, you can click on the upper left hand plan name (your current plan) and a drop down menu will appear with other subscription upgrade options:
Upon clicking on a plan of your choice, you can see a short summary of the features of that plan, should you choose to upgrade.  For example, here we show a current Standard Plan user looking at the option of upgrading to an Advanced Plan:
The modal shows you the cost differential and a quick highlight of additional features you can get.  By hovering over any of the hyperlinked features, you can get a more detailed description:
Click on the "Get Adbeat Advanced" blue button and you'll arrive at your profile page where you can take a look at a table comparing the various plans.  When you're ready, simply click on the "Upgrade" button on the plan of your choice and you can start to enjoy your new features right away.  We'll even prorate any payment you made toward the unused time on your current subscription and apply it to your new plan.
Note that if you're interested in our Enterprise plan, click on the "Contact" button, fill in any missing information, add any special instructions and we'll get in touch with you right away.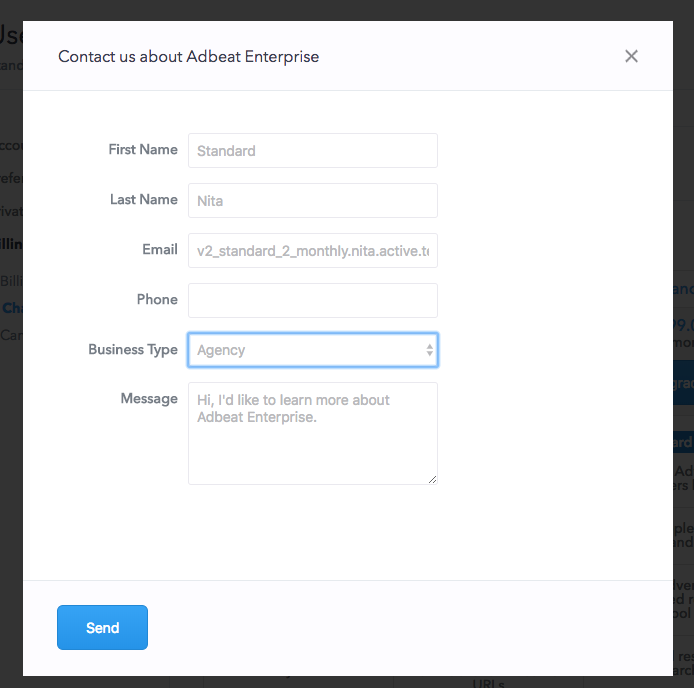 If you have any specific questions about the plans, or if you'd be interested in a demo, feel free to contact us by clicking on the message icon at the bottom right hand corner of every page.  We'd love to hear from you.
Upgrade from a Feature
In the course of using the Adbeat app, you might find yourself clicking on a feature that you would like, but find that it is not available to you.  In these instances, the feature is clickable, but it will trigger a modal that shows the specific feature of interest and which plan you'll need to get access to it.  In this example, the Standard plan user is interested in the ad tags feature and will then see this information presented which will inform her of what she needs to get access specifically to ad tags:
You can simply click on the "Contact Us" or "Get Adbeat …" button to start your access to that feature!
Upgrade from the Profile page
You can also access your profile settings and go to "Billing and Plans" to access upgrade and downgrade options.
Just Upgrade Me
If you'd rather skip the in-app upgrade process or if you're having difficulties, please feel free to just contact one of our sales team members and they will get your account upgraded for you!  Just click on the message icon in the lower right corner of any page:
Click on "New Conversation":
Add any specific information that you'd like and once you submit it by clicking on the icon, we'll get back to you within a few hours to help you out.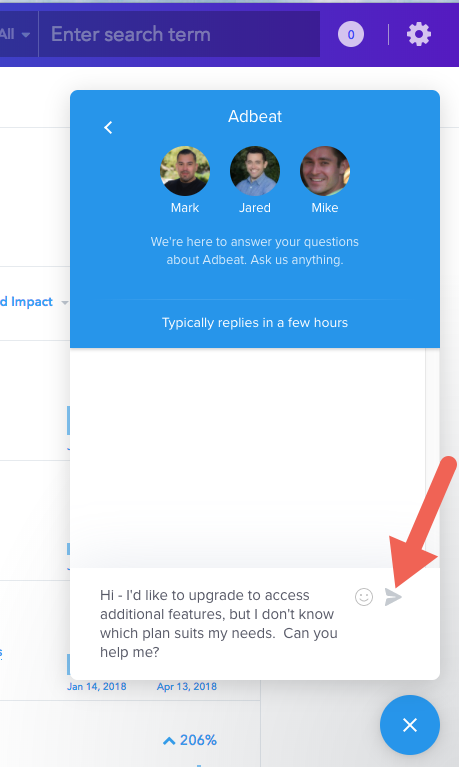 Where can I find my past invoices?
To see your past invoices with Adbeat, access your profile page and navigate to the "Billing and Plans" section.
From here you can download and view any or all of your past receipts.  Any questions on your billing?  Feel free to contact us!  live chat
How do I update my credit card on file?
At Adbeat, we use a recurring subscription model and charge your credit card on file at the beginning of each billing cycle.  Should you need to change or update your credit card on file, simply access your profile settings and navigate to the "Update Credit Card" page or access it directly from the profile overview page.
We accept Visa, Mastercard and American Express for these recurring charges.  If you'd rather not use or submit a credit card, please contact us and we can make other arrangements that suit your needs.  live chat
How do I downgrade my plan?
Are you finding that you're not using the plan as you'd initially expected?  No problem.  You can simply follow the same steps above that you would for upgrading and instead, choose a plan with fewer features.  Don't forget that there are some specialized plans that might work for you as well.  They can be found on the profile page:
Note that when you downgrade, we will change your plan at the time of your request, but we will not be able to refund you monies that you have already paid for your current plan.  Your new, lower rate will be billed at the beginning of your next billing cycle.
How do I cancel my subscription?
If you're finding that you no longer use Adbeat, canceling is simple.  Just access your profile settings and navigate to the "Billing and Plans" section.  Take a moment to inform us of your reason for wanting to cancel so that we can better serve you in the future.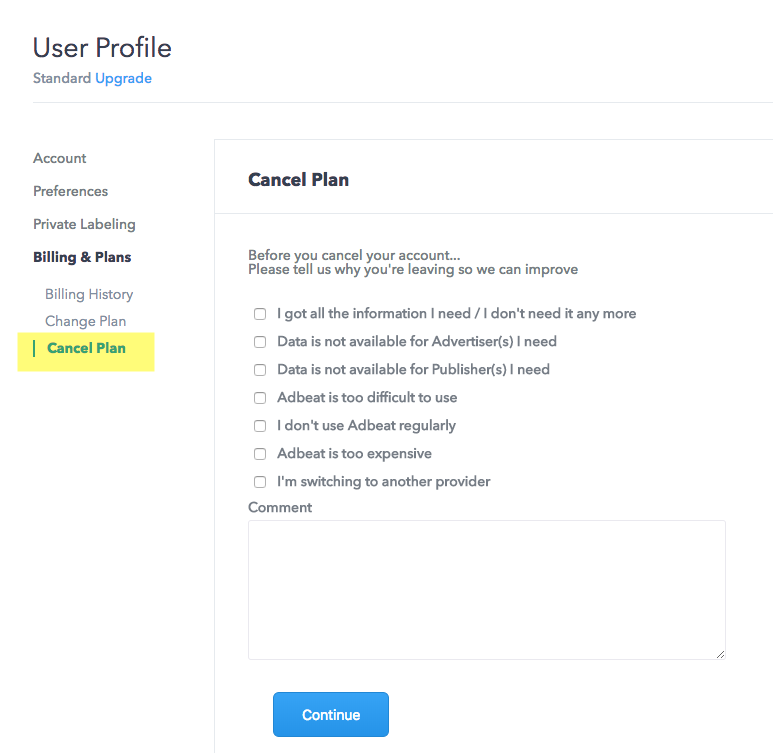 Note that we are unable to refund your unused subscription if you are past the first 30 days period, but you won't be billed at the renewal date and your plan access will be terminated at that point as well.  We thank you for trying out Adbeat and look forward to working with you in the future.